Deep Sea Fishing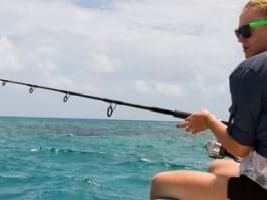 Deep Sea Fishing is one of the most exciting Bermuda Activities at the disposal of the guests at our Bermuda Resort. These are not your ordinary fishing trips knocking around a lake in a flat-bottom rowboat. Instead, these are adventures you'll never forget.
Deep Sea Fishing takes the fisherman offshore. To be considered deep sea, you'll venture into waters over 100-feet deep. Often out of sight of land, this is more than just a leisurely pastime. It requires the skill set of a sailor which includes navigation, handling vessels in heavy weather, and attention to the tide charts. Your guide will also have local knowledge of where the big game fish are, so you'll always have the greatest chance of success.
For inquiries on deep-sea fishing contact our concierge or refer to either Bermuda Reef Fishing or Hakuna Matata.