Snorkeling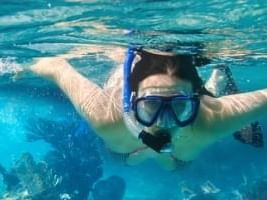 Snorkeling is one of the Activities in Bermuda that draws thousands of visitors to the island. There are many great Snorkeling spots conveniently located near our Bermuda Resort.
About Snorkeling:
The waters that surround Bermuda are truly magnificent, and the reefs that skirt the island beckon the snorkeler. There is out-of-this-world Snorkeling that rings the entire island, so the only dilemma you face is where to start your snorkeling adventure.
For those that prefer to stay in the shallows, there are several beachside sites to explore. Habitats further offshore are found all over the island and present the opportunity for chance encounters with dolphins and, during the right time of year, (April and May) whales. For most of the year the water is warm enough, with an average between 74° and 80°F, to go in the water with just a swimsuit.
However, during the winter months (November – March) the temperature can plunge to nearly 60°F. During this time of year a wetsuit is recommended, particularly when exploring the offshore sites where one may want to leave the surface to get closer to the reefs and wildlife.
Not only is the water warm for most of the year, but it is also crystal clear, so visibility underwater can be just about unlimited. Another thing that makes snorkeling one of the most popular Activities in Bermuda are the many shipwrecks that lay just off the beach. Some are even within swimming distance of each other.
If you have any snorkeling questions please contact our concierge at 1-441-239-9350. or email at concierge@elbowbeachbermuda.com